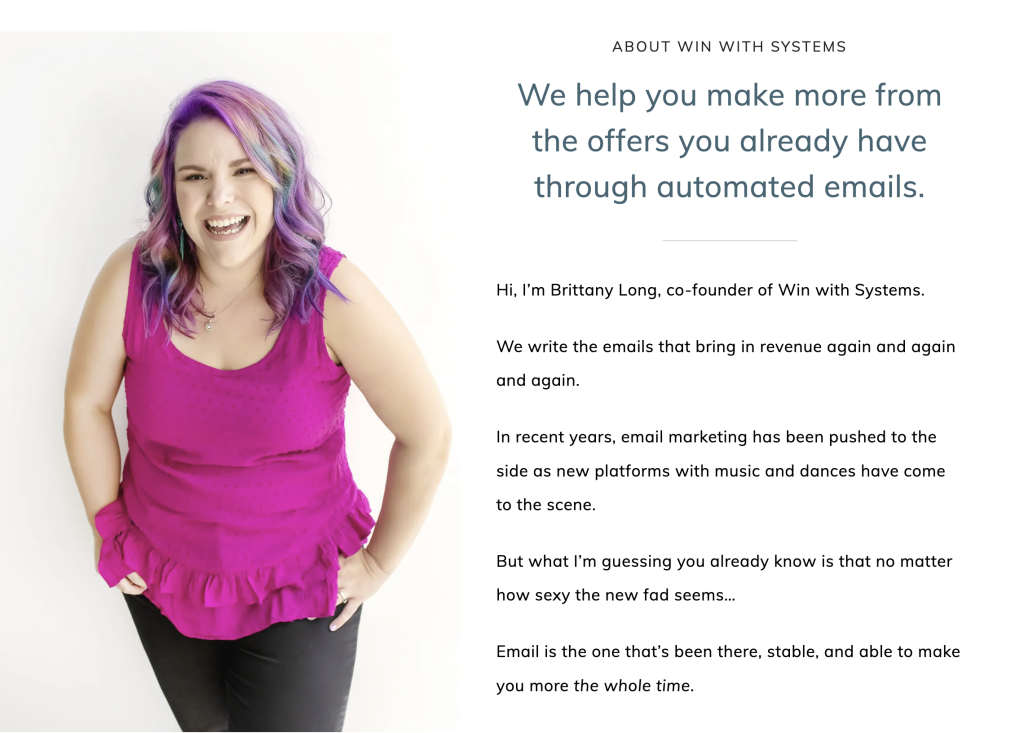 The best time to start expecting the unexpected — and preparing for it — is last year. The next best time is RIGHT NOW.
 
I'm Brittany Long, the Queen of Evergreen Emails and CEO of Win with Systems. I can help you prepare for the unexpected (and THRIVE in the meantime) through strategic email sequences.
And we start with the one that's going to have the longest lasting impact on your business — a nurture sequence that doesn't JUST nurture.
It also builds your authority and SELLS for you. On autopilot.
This week, this month, this year — and for years to come.
This robust sequence is known as an Evergreen Email Sequence and it's the one sequence I've seen make more sales long (and short!) term for business owners that need a break, that are going through something difficult, that want to go on vacation, need to take care of a sick loved on, or wants to go on maternity leave and still make money.
Here's How it Works
Every single person that comes on your list goes through that sequence and with our unique, experienced, and strategic system so you can make sales well after the initial setup of the sequence.
I know you don't have a lot of time, and maybe you don't even like writing!
Whether you like to write or not, though, I have good news.
YOU don't have to do it if you don't want to.
In fact, it's often BETTER if you don't so it actually gets done. You have plenty of other things to worry about.
Getting your year-long money machine doesn't have to take a lot of work on your part. Even if it doesn't feel this way, you DO have a lot of content already that you can repurpose in your emails. You already put the work in once, you don't need to KEEP doing it.
And that's where my company, Win with Systems comes in.
You don't have to figure it out on your own. Heck, I just have two simple forms for you to fill out then my team and I can take it from there.
And within two months you'll have
✨ Quality emails written in your voice
✨ Your tone
✨ Your nuances
Based on your own published content that YOU are already PROUD of.
(Still don't think you have enough content? No worries! I have a process for you, too. We'll meet for an hour and in that time, I'll ask you a number of questions to get your voice, tone, and nuances PLUS content we'll use to write.
My systematic, signature approach to evergreen emails is going to do what you and your team simply don't have the time to learn and do
✔️ Write emails quickly that actually SOUND like you
✔️ That have good deliverability
✔️ That have consistently good open rates
✔️ Subject lines that get OPENED
✔️ With Calls to Action that are irresistible clickable
✔️ That help you nurture your audience for current and future offers
✔️ That actually HELP your audience, too.
It's what I've already helped 6, 7, and 8 figure business owners in a variety of industries do. Whether you're a course creator, digital marketer, life coach, business coach, dog trainer, perfumer, dentist, author, speaker, pet psychic, sales coach, fitness influencer, college admission, social media agency, FB ad guru, or anywhere in between, you can trust me just like powerhouses like you have.
(But don't just take my word for it – head to the Client & Customer Love to see some of the wonderful words I've received from clients).
You CAN earn more without spending even more time working and an evergreen email sequence is the way to do it.